Hello friends, how are you, today the result of Talati exam and Gmail class exam has been announced for you, so please take the information, friends, from this website you can know the result of Talati exam and junior exam and how to check the result. But you will get this information from this website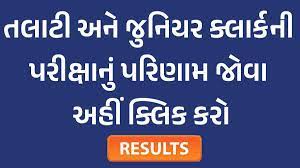 તલાટીની પરીક્ષા અને જુનિયર ક્લાર્કની પરીક્ષાનું પરિણામ જાહેર, પાસ થયેલા ઉમેદવારોએ શું કરવું જાણી લો #📋તલાટી-જુનિયર ક્લાર્કની પરીક્ષાનું પરિણામ જાહેર
Gujarat Junior clerk and Talati result announced : The excitement of the candidates who appeared for the Junior Clerk and Talati exam is over. Panchayat Seva Selection Board of Gujarat Government has declared the results of Junior Clerk and Talati Examination simultaneously today.
Also read GSRTC કંડકટર ભરતી કુલ જગ્યા 3342 માટે જિલ્લા વાઇસ જગ્યા અને ઓનલાઇન અરજી કરવા માટે લિંક:
After the paper leak, the result of the exam is declared, and the candidates are happy. A total of 3467 candidates have passed in Talati and 1181 candidates in Junior Clerk.
તલાટીની પરીક્ષા અને જુનિયર ક્લાર્કની પરીક્ષાનું પરિણામ જાહેર, પાસ થયેલા ઉમેદવારોએ શું કરવું જાણી લો
પરિણામ જાણવા માટે આ લિંક પર ક્લિક કરો https://gpssb.gujarat.gov.in/
Understanding the TALATI-Junior Clerk Exam
The TALATI-Junior Clerk Exam is a competitive assessment that evaluates candidates' aptitude and knowledge in fields relevant to the position. It encompasses subjects such as general knowledge, mathematics, local governance, and language proficiency. Candidates aiming for positions in the administrative and clerical domain within local government bodies take this exam to showcase their abilities.
Also read કામમાં હોય કે ડ્રાઈવીંગ કરતા હોય ત્યારે આ સુવિધા ખૂબ કામ લાગશે
Significance of the Exam Results
The results of the TALATI-Junior Clerk Exam hold immense significance for aspirants. These results determine the candidates who are eligible for further selection processes, such as interviews or additional assessments. Successful candidates move closer to securing the desired role, making the announcement of results a pivotal juncture in their career path.
Also read હર ઘર તિરંગા 2023 : રજીસ્ટ્રેશન અને સર્ટીફીકેટ આ રીતે કરો ડાઉનલોડ
Factors Influencing the Exam Outcome
Various factors contribute to the outcome of the TALATI-Junior Clerk Exam. Academic preparation, time management during the exam, familiarity with the exam pattern, and staying up-to-date with current affairs are essential components that can influence a candidate's performance. Additionally, the support of family, mentors, and a conducive study environment plays a role in shaping the outcome.
Also read કોઈ પણ પરીક્ષા વગર, ધોરણ 10 પાસ માટે પોસ્ટ વિભાગમાં ભરતી.
Strategies for Success in TALATI-Junior Clerk Exam
Thorough Subject Knowledge: A strong foundation in subjects like general knowledge and mathematics is crucial.
Effective Time Management: Allotting specific time to each section prevents rushing through questions.
Mock Tests: Practicing with mock tests familiarizes candidates with the exam's format.
Current Affairs Awareness: Staying informed about local and national events enhances general knowledge.
Healthy Lifestyle: A balanced routine with adequate sleep and exercise optimizes cognitive abilities.
Also read ધમાકેદાર એપ્લિકેશન ડેટા મેળવો પરત માત્ર 2 મિનિટમાં.
Post-Result Emotions and Coping Strategies
Receiving exam results can evoke a range of emotions, from joy to disappointment. It's important for candidates to remember that results are just one part of their journey. Coping strategies include celebrating small victories, seeking support from friends and family, and analyzing areas for improvement rather than dwelling on setbacks.
Friends, how do you like this information and if you have checked your result then you can tell us here below we have also given comment box you can comment and in the comment what is your percentage today have you passed junior clerk exam or not You can tell us by commenting
Every day you come here new information is updated in our website and daily latest news breaking news you will get from this website and live news also you will get for this website along with education information education news govt recruitment govt updates you can see
FAQs
1. When are the TALATI-Junior Clerk Exam results usually announced?
The results are typically announced within a few weeks after the examination date.
2. Can candidates request re-evaluation of their exam papers?
Yes, most examination boards provide an option for re-evaluation or rechecking of answer sheets.
3. Are there any age criteria to appear for this exam?
Yes, candidates must meet the specified age criteria as outlined in the exam notification.
4. How often is the TALATI-Junior Clerk Exam conducted?
The frequency of the exam varies depending on the administrative body's recruitment needs.

5. Is there a limit to the number of attempts a candidate can make?
The number of attempts is usually specified in the exam notification, and it varies based on factors like category and region.