Minimum Basic Sum Assured under LIC Jeevan Kiran Jeevan Insurance Policy is Rs. 15,00,000 and there is no limit on the maximum basic sum assured. The minimum policy tenure is 10 years and the maximum policy tenure is 40 years. House wives and pregnant women are not eligible for this scheme.
Also read કામમાં હોય કે ડ્રાઈવીંગ કરતા હોય ત્યારે આ સુવિધા ખૂબ કામ લાગશે
Insurance policy
Jeevan Kiran Policy which is a non-linked, non-participating personal savings plan as well as a life insurance policy. The scheme provides financial assistance to the family in case of premature death of the life assured during the policy term.
LIC's Jeevan Kiran – An Individual Pure Risk Premium Life Insurance plan with return of premium amount in case of maturity.
To know more, contact your LIC Agent/Branch or visit https://t.co/YWKhLMSAgK to know more.#JeevanKiran #LIC pic.twitter.com/DsLKWRM9nC

— LIC India Forever (@LICIndiaForever) August 11, 2023
Life Insurance scheme
Hello friends, Jeevan Kiran policy plan provides life cover with return of premium and is an excellent policy for those who expect a larger life cover at a cheaper price. And the benefits are effective and its information is available for its plans starting from 18 years to 65 years of age.
Also read હર ઘર તિરંગા 2023 : રજીસ્ટ્રેશન અને સર્ટીફીકેટ આ રીતે કરો ડાઉનલોડ
On the maturity date in Jeevan Kiran policy if the policy is in force, on the date of maturity on life assured, any premium in excess of this term assurance,
The plan allows refund of total premium paid / single premium paid without any rider premium paid and tax.
જીવન કિરણ પોલીસીમાં 2 પ્રકારના ઓપ્શન રાઈડર સામેલ છે
Friends in this plan there are two types of option ride called Accidental Death Disability Benefit Rider and Accidental Benefit Rider according to which the policyholder opts to pay additional premium and opt for such riders and significantly the rider is eligible in such a way that the insurance policy benefits are added. is and or addition improve conditions information given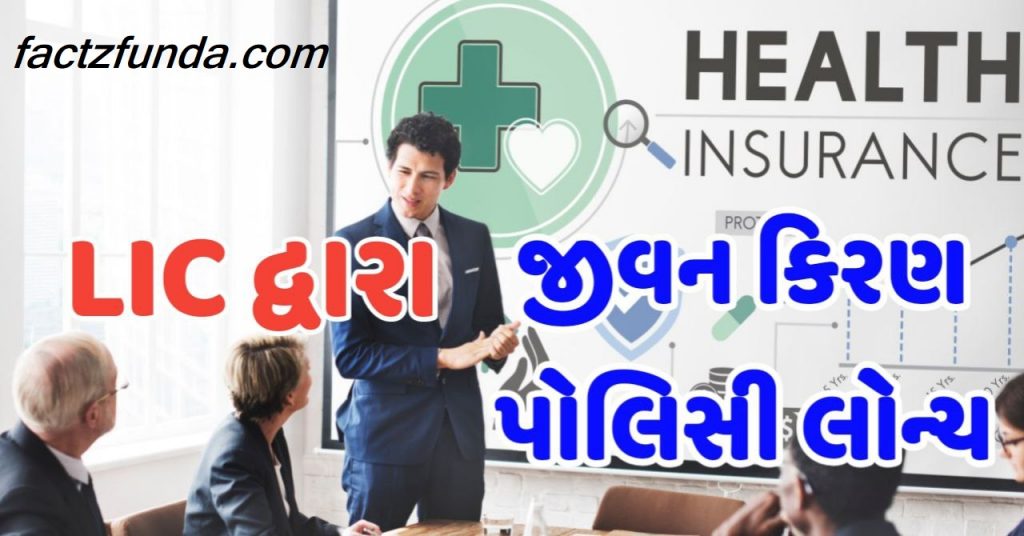 LIC PERFORMANCE UPDATE for April – June 2023 (Q1) of FY 2023-24#LIC pic.twitter.com/Xxq3a7SuCt

— LIC India Forever (@LICIndiaForever) August 10, 2023
Also read  ધમાકેદાર એપ્લિકેશન ડેટા મેળવો પરત માત્ર 2 મિનિટમાં.
Information about Jeevan Kiran Policy Plan
1. Sum Assured for Moderate Life Cover in Jeevan Kiran Policy Plan Rs. 15 lakhs.
2. These policy tenures range from 10 years to 40 years.
3. Premium rates are different for smokers and non-smokers.
4. The premium can be paid either through a single premium or through regular premiums payable for the policy term.
5. Rebate on tabular premium is available for Sum Assured above Rs.50 lakh.
6. Minimum installment premium for regular premium policy is Rs. 3000/- and for single premium policy Rs. 30000/- will be.
Also read  ધમાકેદાર એપ્લિકેશન ડેટા મેળવો પરત માત્ર 2 મિનિટમાં.
Frequently Asked Questions (FAQs)
Is medical examination required for policy approval?
No, medical examination is not required for this policy for individuals within a certain age and sum assured limit.
Can I take a loan against the policy?
Yes, you can avail of a loan against the policy's surrender value, subject to terms and conditions.
What happens if I miss a premium payment?
There is usually a grace period for premium payment. If you miss a premium within this period, the policy remains in force.
Can I surrender the policy before maturity?
Yes, you can surrender the policy before maturity, subject to terms and conditions. The surrender value will depend on the policy's duration and premium payment history.
Can I revive the policy if it lapses?
Yes, you can revive the lapsed policy within a certain period by paying the overdue premiums and meeting the revival requirements.